People are looking for the best tattoo studio in Bangalore and they want to get high quality tattoos.
Tattoos is a form of body art, created by inserting indelible ink into the dermis layer of the skin to change the pigment. It's an exciting process but it can be very daunting if you don't know where to go. This guide will help you find your way through this jungle. We found for you Bob Tattoo Studio, with some great ideas on what kind of tattoo designs you should choose.
Based on your personality get amazing tips from our experts about how to take care of your new piece once it's done. Their goal is not to create beautiful tattoos but also to educate the clients. So, that they understand their choices better and make decisions while choosing a design or artist for themselves or their loved ones.
You may feel overwhelmed by all these options available today, which makes finding a good studio even harder than before!
If you're looking for best tattoo studio in Bangalore that will give you the best tattoo possible, look no further than Bob Tattoo Studio.
Bob Tattoo Studio, have some of the best tattoo artists in the business, they'll be able to help you create a work of art that you'll love for years to come. Not only do they use high quality ink and products, but their prices are competitive as well. They are considered as one of the most affordable tattoo studios around.
And best of all, they're open all 7 days a week so you can always find time to stop by. Give them a call today and book your appointment! You won't regret it.
How to Prepare For Your First Tattoo Session at best tattoo studio in Bangalore?
The problem is to select a tattoo design and prepare yourself and end up in best tattoo studio in Bangalore.
It's important that you make sure you have the right design before your first tattoo session. Tattoos are permanent, so it's important to be certain about what you want when choosing a design. If you choose wisely, getting a new or more tattoos in the future will be much easier. Because the artist will already know exactly what style and color scheme works best for your body type and skin tone.
Check mark these steps before you get ready for your first tattoo session!
Choose the Right Tattoo Studio
Tattoo Artists with experience
Sanitizing process involved while hygienic maintenance
The Dynamic/Organic Type of Tattoo Ink
How Much Does a Tattoo Cost?
Choose the Right Tattoo Studio –
Getting a tattoo is an important decision. You want to make sure you go to someone with the best skill, experience and reputation.
Tattoos are permanent! Don't risk your health or safety by going anywhere other than Bob's studio. He has been in business for more than 10 years and always had a 5 star Yelp rating. No one else comes close!
Tattoo Artists with experience –
Go to the #1 Rated Best Tattoo Artist in Bangalore, India – Ranked #1 on Google, Facebook & Yelp (and 4+ stars on all). Get amazing tattoos from the best artists at affordable prices. They offer free consultations so you can see how good their work is before getting anything done. Bob Tattoo Studio, their shop is located right downtown in Bangalore making it easy for anyone looking for some ink to find them easily.
Sanitizing  process involved while hygienic maintenance –
Any tattoo studio you select, make sure with the hygiene maintained at their place. Hence the tattoo deals with the skin, hygiene maintenance plays very main role at first. Look for recent updates on the tattoo studio you have selected.
The Dynamic/Organic Types of Tattoo Ink –
Bob Tattoo Studio which is the best tattoo studio in Bangalore with best artists in the industry. They provide services offered at very affordable prices . They have high quality products that give best results using dynamic organic ink. So what are you waiting for? Get best tattoos at Bob Tattoo Studio now!
How Much Does a Tattoo Cost? –
Look for high quality tattoos at affordable prices. Any tattoo designs costs based on the design selected considering color, detailing, dimensions. The standard tattoos are priced based on the per.sq.inch (Rs. 500). The price also increases based on the tattoo design's detailing art. Check and confirm before you step into any tattoo studio.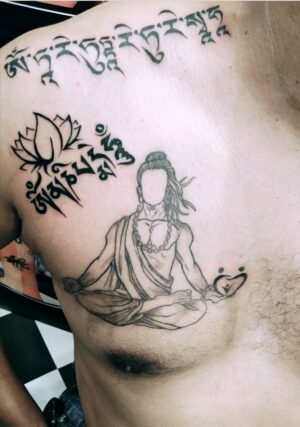 Who are the best tattoo studio in Bangalore?
According to the survey it was very difficult to find best tattoo studio in Bangalore!
Considering the above conditions, yes we found the best tattoo studio in Bangalore. And it results as BOB TATTOO STUDIO!
Bob Tattoo Studio is the best tattoo studio in Bangalore rating highest in all media. They holds genuine happy customers all over Bangalore by providing the best services. Their quality of tattoos at affordable prices are very famous rumor in the industry.
Bob is one of the most influential tattoo artist in the tattoo industry. It is considered not only for his innovative designs and impeccable skills but also for his passion for tattoo safety. He started his tattoo career at a very young age and now stands as one of the famous tattoo artists in Bangalore.
Services That are Offered at Best Tattoo Studio in Bangalore!
They provide various tattoo services which includes,
Temporary Tattoo Services
Permanent Tattoo Services
Permanent Tattoo Removable Services
Customized Temporary Tattoo Services
Portrait Tattoo Services/3D Tattoo Services
Make Up Tattoo Services
Temporary Tattoo services –
It is a spray tattoo where a tattoo lasts 5 to 6 days on your skin. The standard price for temporary tattoos is Rs. 100. Enjoy the temporary tattoos on your body at very affordable prices.
Permanent Tattoo Services-
A Tattoo which lasts permanently on your body for your lifespan. And the price of permanent tattoo is Rs. 500 per.sq.inch. It also increases based on the design's detailing involved.
Permanent Tattoo Removable Services-
Tattoo removal services involves the laser treatment which takes 3 to 4 sittings for any tattoo. Every sitting involves the price to be paid based on the dimension of the respective tattoo . The price charged for tattoo removing is Rs.1000 per.sq.inch.
Customized Temporary Tattoo Services-
Lets say people want to try a tattoo design which they are not sure! Hence these customized tattoos-help them visualize how inking on their body looks like. Based on design the pricing would vary.
Portrait Tattoo Services/ 3D Tattoo Services-
These Portrait tattoo services are the picture tattoos in easy way.
They summarizes the real image based on the portrait u wish u get inked. There are 2 types of portrait tattoos 3D picture and Black and white shading one. Based on the type of portrait the charges get involved.
Make Up Tattoo Services-
The Make up Tattoo Services involves Face tattoos. Lets say eyebrow tattoos, lip-liner tattoos, lipstick tattoos and so on. The prices also vary with the make up tattoo services and the detailing they involve.
They are in the tattoo industry since 2013. Bob located in Gopalan Signature Mall, and is ranked #1 among Bangalore tattoo artists. He has been tattooing for more than ten years now never ceases to amaze his clients with expertness. He is not only the qualified and licensed tattoo artist with his experience and talent, but also a wonderful artist.
Their prices are very affordable and they provide best results using dynamic, organic ink with high quality tattoos. You can find them by visiting their website or calling them on the number mentioned at their website for an appointment. You can also walk-in and get best tattoos without any prior appointments. They are open from Monday to Sunday, from 10 am to 10 pm (also 24hrs if u have taken any appointments). You can also find them at tattoo shops near me using the keywords mentioned above. So what are you waiting for? Get best tattoos at Bob Tattoo Studio!
Do check their website for the transparency work and for more detailed information. Click here…